MELLOWNAUT is not a band with fixed members but an open recording project for Electronic and Acoustic Ambient Music from Germany.

MELLOWNAUT uses any musical style of modern popular music to be crossed and mixed up to our very own (mainly instrumental) Electronic and Acoustic Guitar Chill Out Sound, enriched by voices and/or any digital audio noise that comes our way.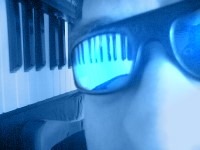 As we want to share our sound with everyone who is interested in, we offer on this homepage - free of charge - download of MELLOWNAUT Music and CD-Artworx for non-commercial private use.

We even may take too older records from our former bands (about 1985-1996) to publish them here or to remix and update them with new sounds to be published as MELLOWNAUT ReMixes.

We would like to point out: This homepage is a pure private homepage.
We do not demand any payment from you if you download from:

www.mellownaut.com

www.mellownaut.de

Today - homepage first published November 2006 and revised November 2007 - you can download:

20 MELLOWNAUT songs with total time 01:48 hour = 108 minutes !

For free...No tricks, no traps, no internet junk, no money.

Please know, all content available for download on this homepage
is licensed under a "Creative-Commons-License". Please see details below or on Download.


We intend to improve and update the layout design of this homepage in future, and of course to make more Audio projects available for download.

We appreciate your comments to our music and homepage, please use our Guestbook or Contact form. And don't forget to recommend this page to others...



The MELLOWNAUT Debut CD (produced 2004):




2of40








The latest MELLOWNAUT song (2007): MAGNETIC MOON


2of40 New Projects Download Guestbook Contact


All MELLOWNAUT content on this website (including text, photographs, audio files,
and any other original works), unless otherwise expressly stated, is licensed under a
Creative Commons Attribution-NonCommercial-NoDerivs 2.0 License